Ducati Panigale 899 and 1199 S Test Ride
Published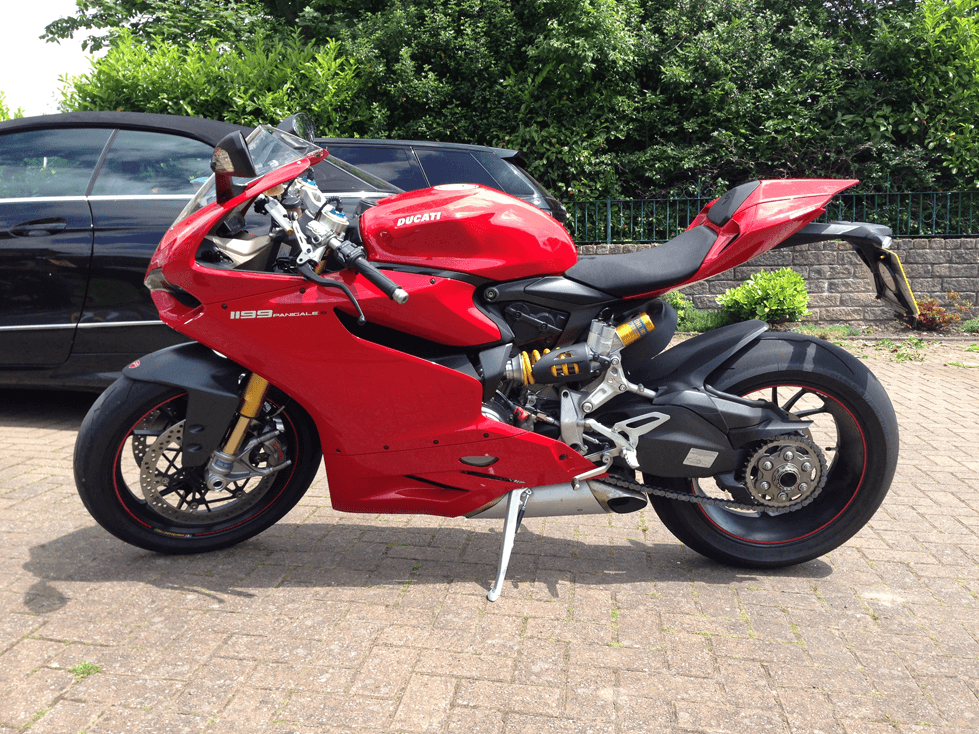 So today I rode both the Ducati 1199 S and the 899. I've read a few reviews and watched Baron Von Grumble's vlogs on YouTube about both bikes and everyone says the 1199 is too brutal for the road but I wanted to see for myself. Side by side with my Kawasaki ZX10R, they are similarly powered. In fact my Ninja is a bit more powerful by 2bhp on a rolling road, but actually a good 12bhp (listed as 207bhp at 15,000 revs) with the RAM air involved. That said, the 1199 is a twin and that makes all the difference.
It has a lot of torque from low revs and the Baron was spot on with his criticism of the throttle. It's either on or off and it's hard to deal with when manoeuvring at slow speed. I found myself not wanting to use my indicator when exiting roundabouts because I was feathering the clutch and I didn't want to wobble the lever and unleash hell, and that's what it feels like – a mad animal that you're trying to keep contained all the time.
The first thing I noticed when I sat on the 1199 was that I felt much more upright than I do on my Ninja. I had a better view all round, and felt more comfortable than I'm used to. The dash has a full colour TFT screen, similar to what you have on your mobile phone. There are apparently all sorts of things you can configure in there but I just used it to switch to Sport mode, which you do using the indicator cancel switch. Other options were Wet and Race and I thought Race mode sounded a bit ambitious.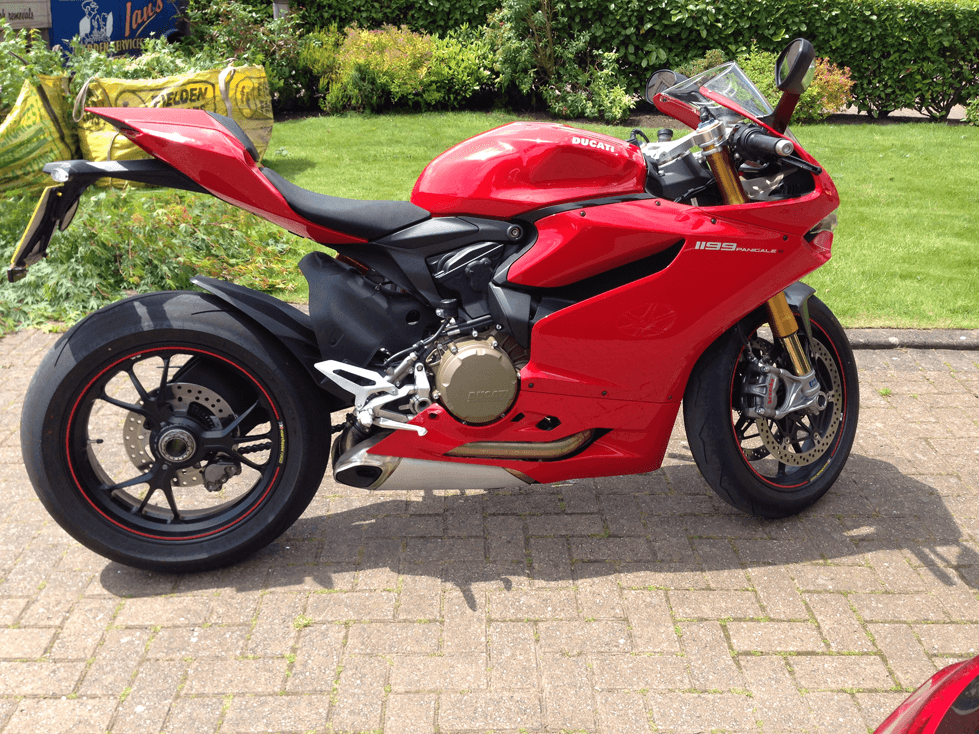 Firing up the bike involved the engine turning over a few times on the starter motor before it wanted to play but once it woke up it sounded wonderful. It's certainly much more satisfying to blip the throttle on a twin than on an inline four. It's a sublime sound.
My wife, Becki, and I set off up the M60 to get to some roads we knew. She was following on the 899. Upon accelerating on to the motorway I felt the front wheel lift, which I wasn't expecting as I wasn't accelerating hard. I'm not sure if it lifted because I was sat a bit more upright or if it was because of the torque. I know my Ninja wouldn't have done that. The bike made me feel like I was going faster than I actually was. Either the fairing doesn't deflect air as well as the Ninja or the more upright position made me prone to more buffeting. After my experience yesterday, it's probably a good thing to be reminded of how fast I'm actually going.
Soon after setting off, I noticed the seat getting warmer. The exhaust system loops around under the seat making the whole seat warm. That's probably a lovely feature in Winter but in the other months, I can see Ducati Sweaty Arse being an issue.
After we left the motorway, the 1199 really became quite a pain to keep under control, but it got a lot of looks. As did the 899. They both look very similar, after all. We pulled in for fuel in Rawtenstall and the cashier at the desk exclaimed his delight in his Asian / Lancashire accent. "Nice one, mate. How much is that?" Well quite a bit more than my Ninja actually, but is it worth it? I'm not sure. It's just that you get so much for your money with a ZX10R Race ABS which starts at £13,199 while a 1199 S like the one I was riding starts at £20,250. But with its electronic suspension, it's hardly a base model. The regular 1199 starts at £16,250. Quick-shifters seem to be standard equipment across the Panigale range.
Some have complained about the indicator cancel button being a problem because if you press it to check your indicators are off, it changes the HUD. While that's true, the speedo is visible at all times.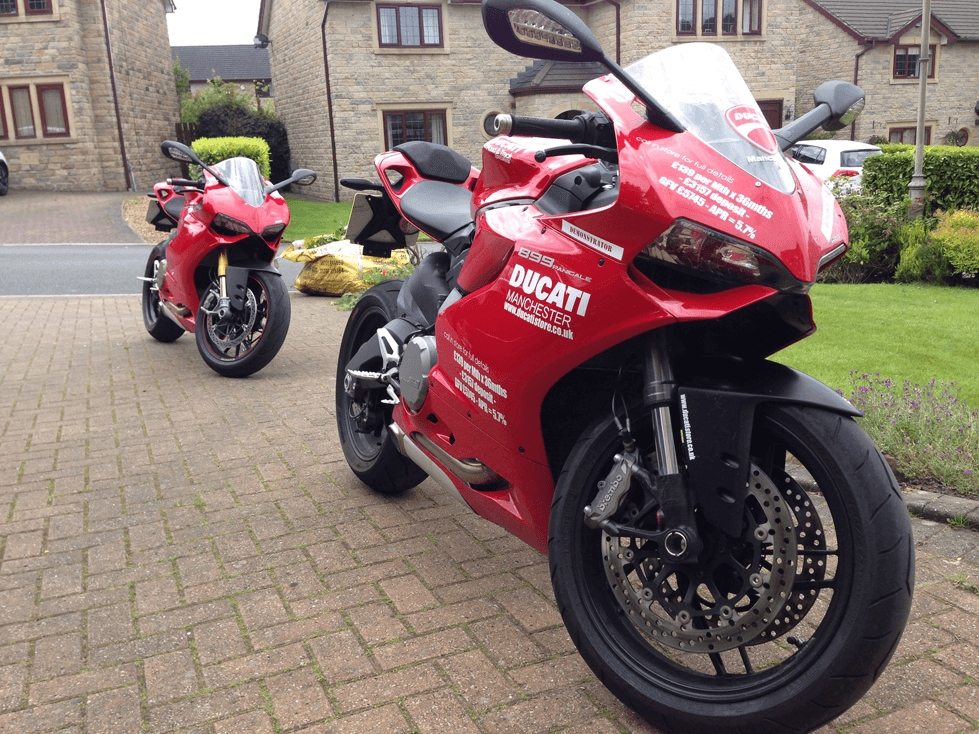 Ducati Manchester let us have the bikes for 2 hours, so we swapped half way though. Becki jumped on the 1199 and I swung my leg over the 899. The 1199 must be slightly taller than its baby brother because Becki was struggling to reach the ground but was happy to carry on anyway. The 899 is a completely different beast but has inherited all the good looks and wonderful sounds of the 1199. At first glance, the only differences that are obvious are that it lacks gold forks and the single swing arm and that it says "899" on the side.
It started up in a similar manner – the engine turns over a fair number of times before it sparks to life with that aggressive growl. Riding it is a delight. It is very light and agile with the perfect amount of power. Where the 1199 becomes a scary monster, the 899 really inspires confidence and I found myself effortlessly flinging it over from side to side and thoroughly enjoying it. The dash isn't as sexy without the TFT screen, but it has an LCD screen that presents more than enough information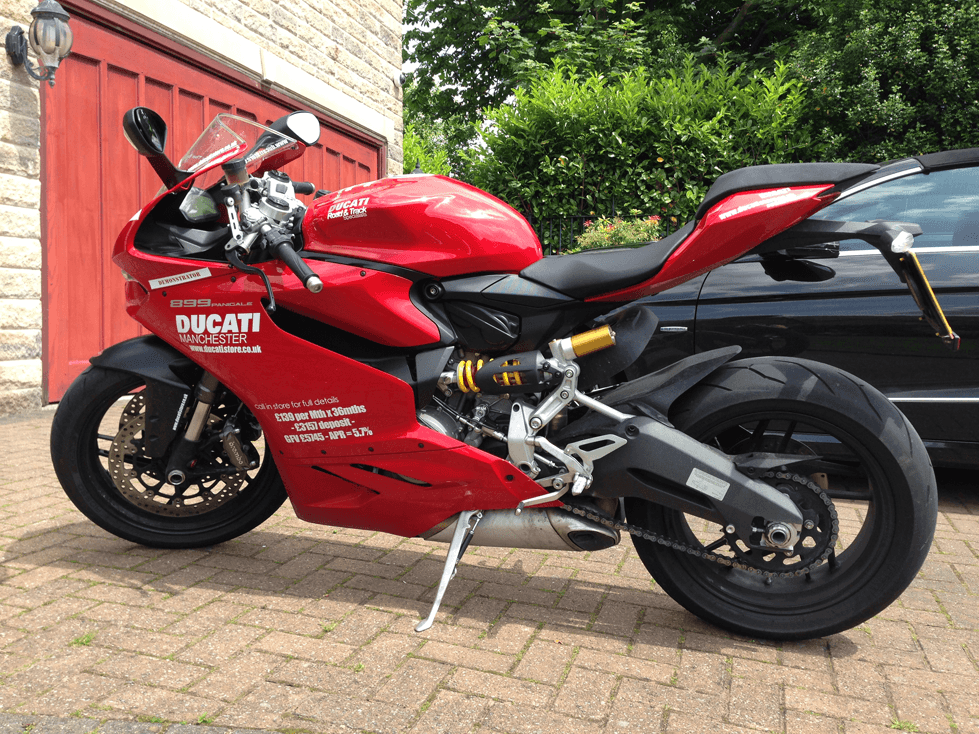 It is much smoother to ride and loads more fun. Basically everyone else is right – the 899 is a much more practical and fun bike. The 1199 is very race focused, and although many super bikes can be ridden on the road with comparative ease, the 1199 isn't one of them. I've been told by several people that super bikes only go as fast as you twist the throttle, implying they're quite docile unless you decide to make them misbehave. That is true of the 899 but not the 1199. The only thing I've really noticed that's missing on the 899 is a nice slipper clutch.
I had all sorts of preconceptions about Italian bikes. I presumed they would be all flashy and poor build quality and I'm happy to be wrong. The bikes have a nice solid feel about them. Even closing the fuel cap is satisfying because it's not clunky. I'm certainly very tempted by the 899 and Becki's already put a deposit down on one. It's a brilliant bike.